Catholic Schools Week an opportunity to 'see, hear, experience'
Click here to view this special section.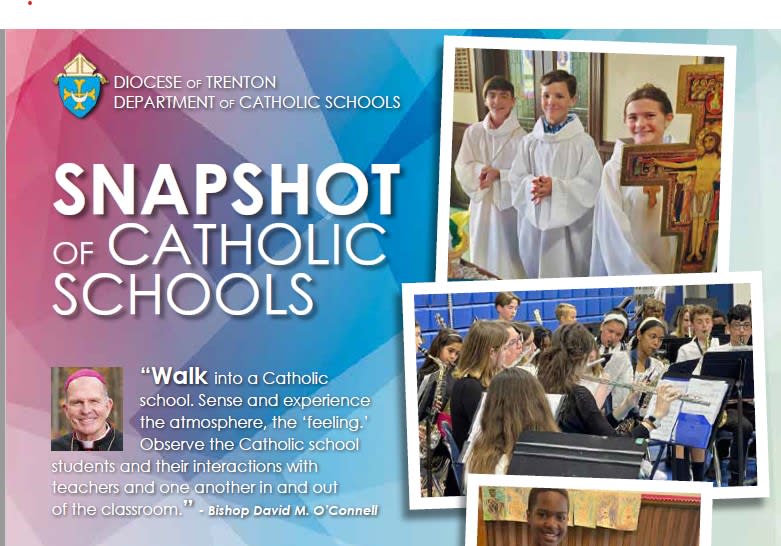 The Department of Catholic Schools in the Diocese of Trenton provides leadership, direction, support, and service to pastors, principals, and school communities as they form students in the Catholic Faith and develop each child's potential.
Read more: Snapshot of Catholic Schools
Come and see what the Catholic schools of the Diocese of Trenton can offer your children, and you will find that Catholic schools TRULY have it all.                                Choose Catholic Schools
LIVE STREAMING & IN-PERSON SCHEDULE:

Daily Mass Mon-Fri 7:30am

Daily Mass Saturday – 8:00am

Saturday Vigil Mass – 5:00pm

Sunday – 8:30 and 10:30am

The Month of  January : 

Dedicated to the Holy Name of Jesus

In the Name of Jesus let every knee bow, of those that are in heaven, on earth, and under the earth and let every tongue confess that the Lord Jesus Christ is in the glory of God the Father. 

 

Live Streaming will Continue ~

Click Links below


WATCH MASS FROM YOUR HOME!

You can view Mass live at the times listed or view the recording any time afterwards.

Join us weekly ~ Thursdays at 7PM and Fridays at 10AM

What is the Eucharistic Revival?
It is a movement of Catholics across the United States to be healed, converted, formed, and unified by an encounter with Jesus in the Eucharist—and sent out in mission "for the life of the world." The National Eucharistic Revival and National Eucharistic Congress are a direct response to the Holy Father's call for a "pastoral and missionary conversion which cannot leave things as they presently are" so that the Church in the United States might be "permanently in a state of mission" (Evangelii Gaudium, n. 25).
Download prayer card:
COOKING WITH OUR PASTOR FATHER ARIEL
Our Bishop encourages us to continue to offer our prayers for peace, unity and for the people in Ukraine.

We're looking for Volunteers. Please click the link and download the Volunteer form and return to the Rectory Office,
Drop in the Collection Basket or mail to the Parish Office.
Our Lady of Good Counsel Volunteer Sign Up Form
---
Faith at Home is a monthly resource produced by the Diocese of Trenton to encourage families to grow in the practice of the faith.  Practical ideas, tips, resources, and encouragement will be provided each month through the monthly column and podcast. 
Click on Icon below
---
---